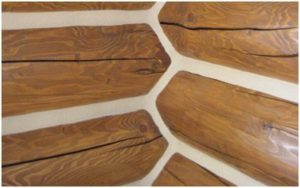 Chinking – The space between the logs on a wall is called the chink area. The process of filling these spaces, as well as the filling itself, is called chinking.
Chink ~ a compound developed specifically for log houses; new and old. It provides a flexible mortar-like finish that seals the chinks permanently preventing moisture accumulation and subsequent rot. Chinking comes in a variety of colors: some folks like the lighter chinking while others prefer to match it to the logs.
Done correctly you will save heating and cooling costs, and prevent water and insect infiltration.
The original method was to fill the space with available moss, dung, straw or clay. This progressed to just nails to hold the rude concrete, then to metal screen lath that improved the adherence of mortar and concrete. Insulation included rags, burlap, okum, shredded paper, and sawdust. Items found when removing old lath and mortar chinking could include old clothing, horse hair, burlap, shredded paper and sawdust.
When if comes to proper Chinking for your log home let LogRestore.com put you in contact with the best.