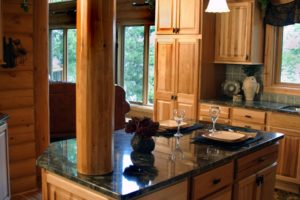 The most obvious fact of a log home being "green" is that the building material – logs grown from trees are a renewable resource.
There are sustainably managed forests all over Canada, and most builders prefer to purchase from these kinds of sources. Log homes require less man-made materials and the walls actually act as insulation. Logs hold and absorb heat during the day and radiate it out at night. Many log home owners often want to be "green" and therefore use fireplaces as their main heat source. Open concept or loft style allow for overhead fans to distribute heat where needed.
When choosing a build site, take advantage of the sun; southern exposure for the main/great room is one idea. A northern line of Fir trees will be a great protection on that cold and windier direction. When using man made products make sure they are energy efficient. Use Energy Saving appliances and getting rid of old refrigerators that are energy drainers. Chinking done by an expert can be an enormous energy and heat saving perk.
Consider a Hot Water System that operates on an "on demand" principal. Better than anything consider a solar water heating method. Use HEPA filtration system to keep air quality high and healthy. And ceiling fans to move warm air in the winter and cool in the summer.
Source: Do the research through Log Home Magazines – visit websites devoted to being or going "green".
http://www.logconstructionmanual.com/